Mold Basics
– The key to mold control is moisture control.
– If mold is a problem in your home, you should clean up the mold promptly and fix the water problem.
– It is important to dry water-damaged areas and items within 24-48 hours to prevent mold growth.

Molds are part of the natural environment. Outdoors, molds play a part in nature by breaking down dead organic matter such as fallen leaves and dead trees, but indoors, mold growth should be avoided. Molds reproduce by means of tiny spores; the spores are invisible to the naked eye and float through outdoor and indoor air. Mold may begin growing indoors when mold spores land on surfaces that are wet. There are many types of mold, and none of them will grow without water or moisture.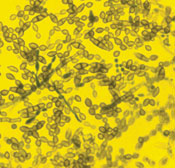 (Magnified mold spores)
Molds gradually destroy the things they grow on. You can prevent damage to your home and furnishings, save money, and avoid potential health problems by controlling moisture and eliminating mold growth.
Hidden Mold
You may suspect hidden mold if a building smells moldy, but you cannot see the source, or if you know there has been water damage and residents are reporting health problems. Mold may be hidden in places such as the back side of dry wall, wallpaper, or paneling, the top side of ceiling tiles, the underside of carpets and pads, etc. Other possible locations of hidden mold include areas inside walls around pipes (with leaking or condensing pipes), the surface of walls behind furniture (where condensation forms), inside ductwork, and in roof materials above ceiling tiles (due to roof leaks or insufficient insulation).
Investigating Hidden Mold Problems
Investigating hidden mold problems may be difficult and will require caution when the investigation involves disturbing potential sites of mold growth. For example, removal of wallpaper can lead to a massive release of spores if there is mold growing on the underside of the paper. If you believe that you may have a hidden mold problem, consider hiring an experienced professional.
For more information, please visit the article in it's entirety here: https://www.epa.gov/mold/brief-guide-mold-moisture-and-your-home#tab-3